ConverSight
ThoughtSpot Alternative
Powerful insights,
at a fraction of ThoughtSpot's cost
See why teams choose ConverSight over ThoughtSpot for faster ROI and unmatched cost-savings, without sacrificing on quality or features.
See faster ROI by onboarding Athena in weeks—not months
Athena is the AI-powered assistant you can't live without. Consider her an extension of your team, available 24/7 and armed with the skillset of a data analyst and scientist. No lengthy implementation or onboarding times means Athena can deliver actionable insights that drive ROI in a matter of weeks.
decrease in report creation costs
decrease in time spent in ad hoc queries
Why teams choose ConverSight vs ThoughtSpot
Like ChatGPT, just ask for insights
As opposed to guided search, Athena delivers custom reports, proactive insights, and AI-powered recommendations in a simple QA interaction resembling ChatGPT. The user-friendly interface makes it easy for anyone and everyone to access insights for smarter decision-making.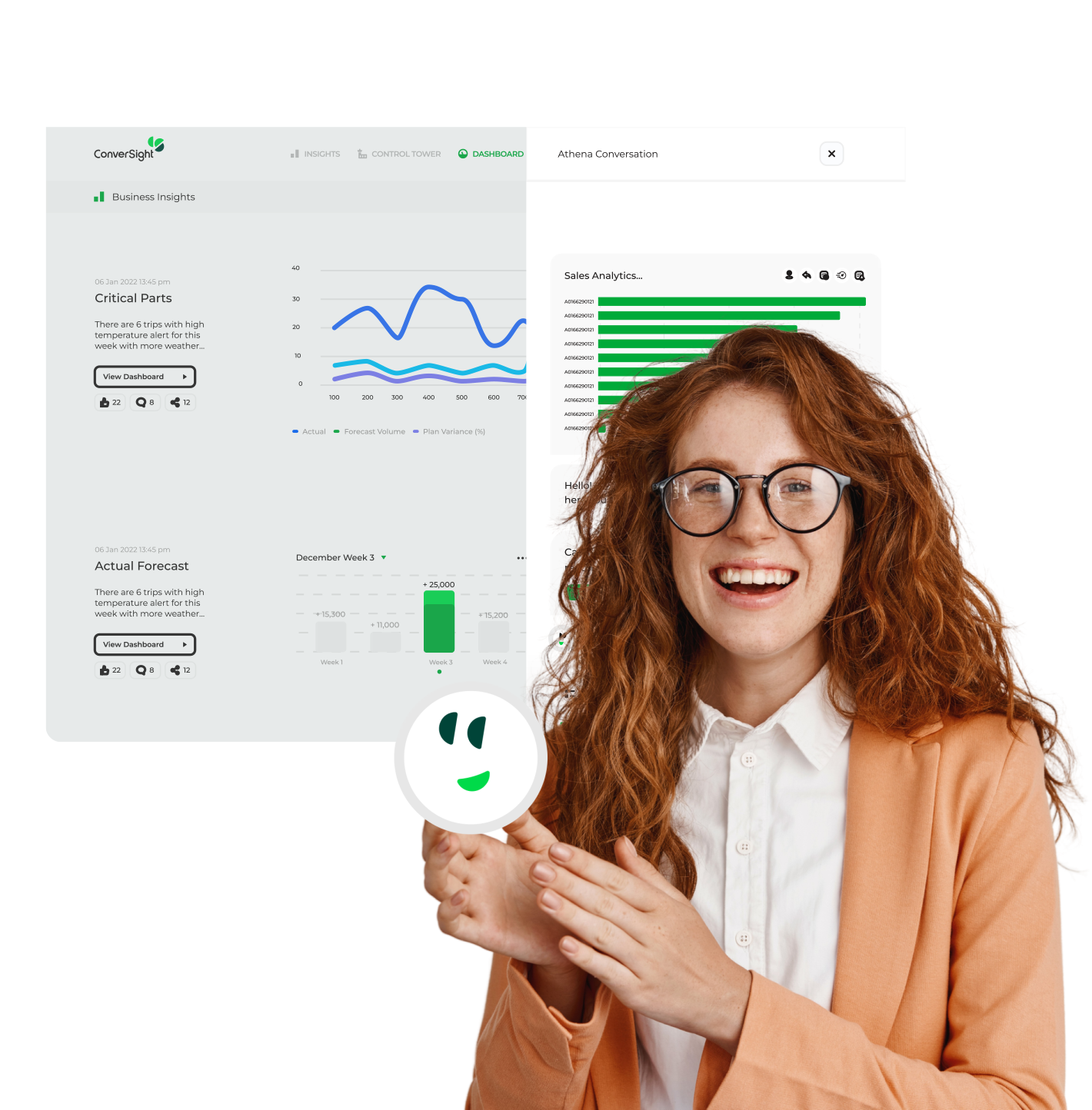 Dashboards
Data Stories
Gone are the days of static dashboards and manual reports. With automatic insights delivered around-the-clock in compelling visualizations, you're empowered to make confident, data-driven decisions that give you a competitive edge in today's fast-paced business environment.
Centralize data from disparate systems into a single platform
Whether your data lives in AWS, Excel, a data cloud or sprinkled all over, ConverSight's cloud neutral solution can seamlessly integrate into your technology ecosystem, without needing to move your data.
Your all-in-one data analytics tool
ConverSight centralizes data storage, data exploration, data science and data visualization into a single platform, saving your business countless resources and the headache of juggling multiple tools.
Say goodbye to sky-high analytics costs
Why overpay for insights? ConverSight's scalable solution and unmatched cost savings means you'll maximize your ROI without sacrificing on quality or features.
Actionable Insights for Enterprise
See why business leaders choose ConverSight as the #1 ThoughtSpot alternative.
Customers powered by ConverSight
Sonic Tools USA.

"ConverSight was able to supplement practically all of the shortcomings we found with our existing inventory management system, especially in the areas of reporting, forecasts and analytics. Our company became an expert in retrieving data to make information- based decisions."

Galen Hagerty IT Systems Admin
Extract Companies

"ConverSight provides our sales team with data driven insight to pre-emptively target customer demands based on what Athena recommends."

Chris A. President
Dr. Agarwal's Eye Hospital

"ConverSight's analytical capabilities and data management plays a critical role in developing agility within our supply chain ecosystem."

Kiran Narayan VP Supply Chain Operations

We humanize interactions between systems and its users
We deliver smart solutions that think and talk