ConverSight
Self-Service Analytics
Self-Service Analytics and Reporting for Executives
Access real-time insights, custom reports, and personalized recommendations seamlessly through a simple question-and-answer interface, giving users the power to make data-driven decisions with ease.
Empower everyone on your team with data insights
In today's data-driven business landscape, having efficient and streamlined ways to extract insights from large data warehouses is crucial. With ConverSight's AI-Assistant Athena, anyone can uncover hidden patterns, trends, and correlations that can drive informed decisions – just by asking questions.
reduction in time to value
decrease in report creation costs
decrease in time spent generating reports
Benefits of ConverSight for Analytics:
Speak to your data in a 1:1 interaction, just ask!
Our AI-Assistant, Athena connects to your data to deliver custom reports, proactive insights, and AI-powered recommendations in a simple QA interaction resembling ChatGPT. The user-friendly interface makes it easy for anyone and everyone to access insights for smarter decision-making.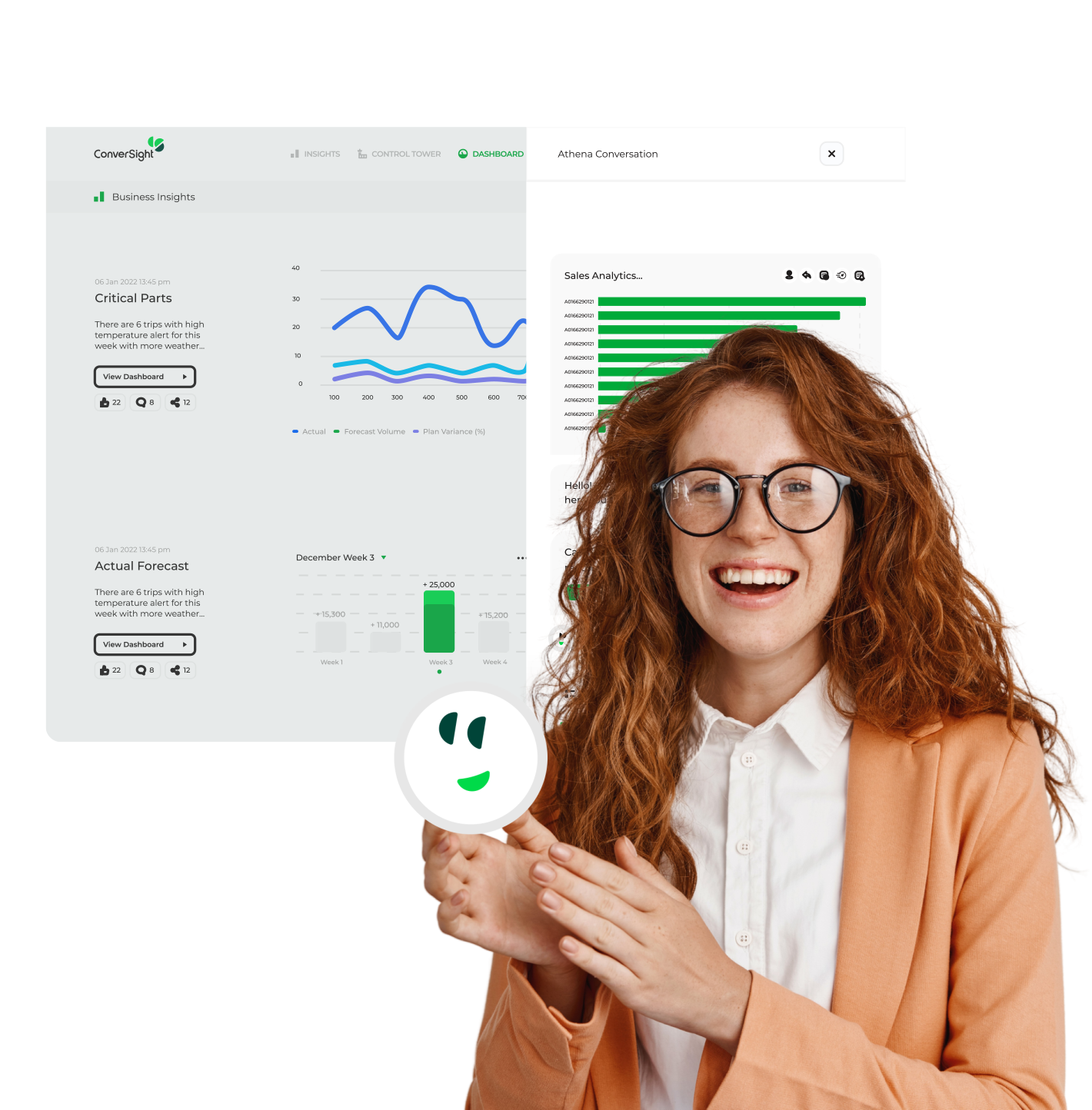 Need a custom report? Let AI generate on demand
Turn hours spent creating reports into seconds. Rather than waiting on a developer, ask Athena for the information you need, and she'll generate a report on demand and in your preferred format. Endless customization options makes reporting more dynamic and personalized than ever, reducing spend and overall time to value.
Manage massive volumes of data, effortlessly
Discover valuable insights in mere seconds, even when working with massive amounts of data. Whether you're working with big data or complex datasets, you'll get instant access to the information you need to drive faster decision-making, and give you a competitive edge.
Advanced analytics for all – no code required
Democratize your data for every employee. Increase productivity by empowering your entire staff to create reports on their own in seconds with the power of AI. No data scientist, analyst or coding expertise required.
Say goodbye to sky-high analytics costs
Why overpay for insights? ConverSight's scalable solution and unmatched cost savings compared to traditional BI platforms, means you'll maximize your ROI and get more, for less.
Actionable Insights for Business Leaders
See why business leaders choose ConverSight as the #1 AI-Analytics & Reporting Tool.
Customers powered by ConverSight
Sonic Tools USA.

"ConverSight was able to supplement practically all of the shortcomings we found with our existing inventory management system, especially in the areas of reporting, forecasts and analytics. Our company became an expert in retrieving data to make information- based decisions."

Galen Hagerty IT Systems Admin
Extract Companies

"ConverSight provides our sales team with data driven insight to pre-emptively target customer demands based on what Athena recommends."

Chris A. President
Dr. Agarwal's Eye Hospital

"ConverSight's analytical capabilities and data management plays a critical role in developing agility within our supply chain ecosystem."

Kiran Narayan VP Supply Chain Operations

We humanize interactions between systems and its users
We deliver smart solutions that think and talk

echo '';