Your ChatGPT for business insights
ConverSight's AI-powered analytics platform harnesses the power of conversational AI to provide real-time data, predictive insights, and personalized recommendations through a similar ChatGPT interface.
What if getting insights from data was as intuitive as ChatGPT?
It is! Meet Athena: Your AI-assistant for business insights. Simply ask questions, and get insights, reports, and recommendations on demand, all in a similar 1:1 interaction like ChatGPT.
decrease in report creation costs
decrease in time spent in ad hoc queries
Your ChatGPT equivalent for business intelligence
Communicate with your data, just like ChatGPT
Athena delivers real-time data, proactive insights and AI-powered recommendations in a simple QA interaction resembling ChatGPT. It's the most intuitive way to interact with your data, guaranteed.
Democratize data for smarter decision making
The user-friendly interface makes it easy for anyone and everyone in the organization to access insights for smarter decision-making. Athena delivers the exact data, dashboards and reports you need, in a format you understand – no learning curve required.
Centralize data from disparate systems into a single platform
With over 130+ integrations, ConverSight connects to your systems and can quickly analyze vast amounts of data to deliver insights in seconds. As a result, ConverSight becomes your ChatGPT for business insights and helps extract more value from your data.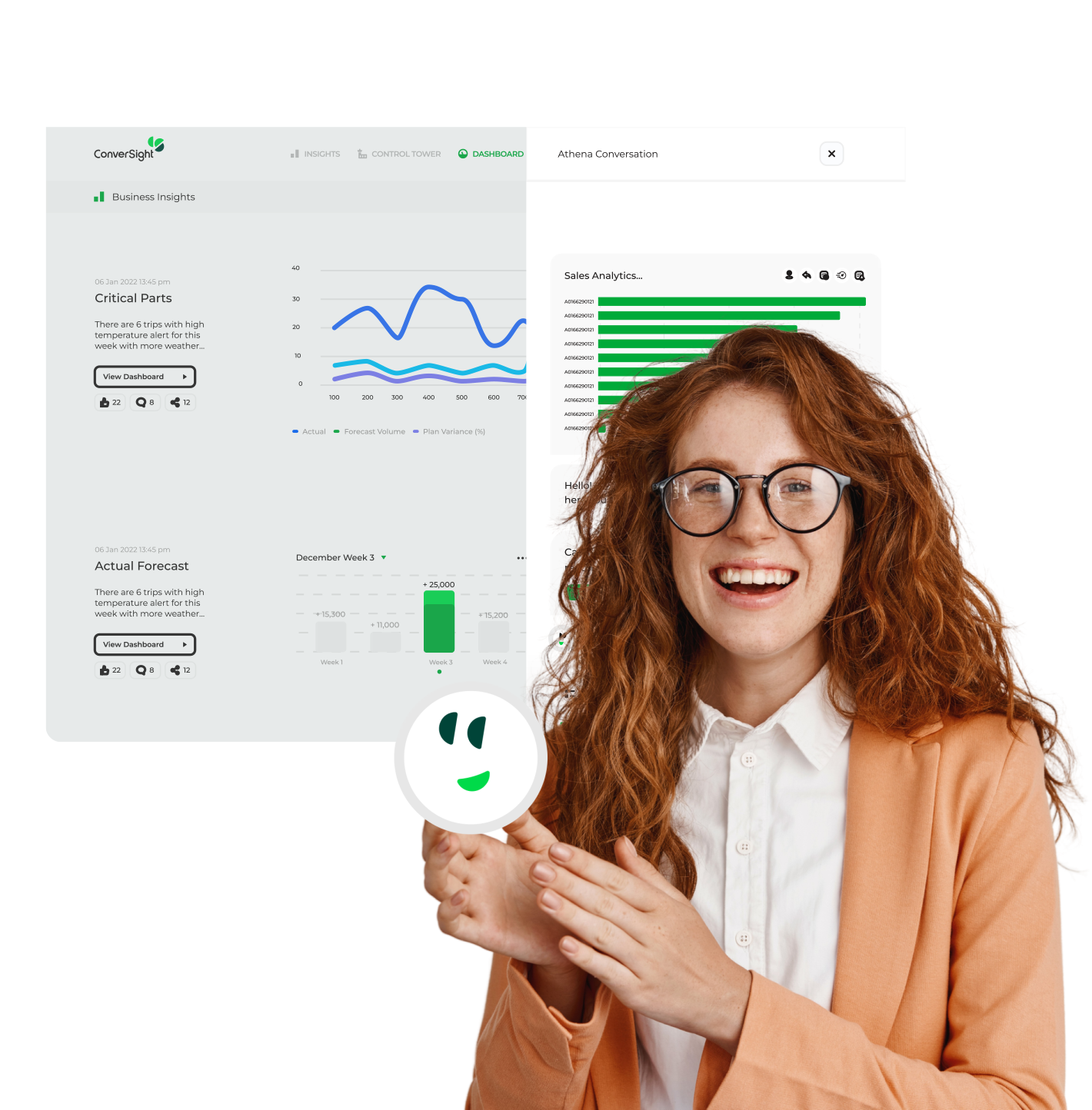 Save hours weekly, and boost efficiency with automation
Gone are the days of manual report building or sifting through static dashboards. By automating data analysis and having immediate access to real-time insights, you'll save time and resources that can be reallocated towards more strategic tasks.
Business intelligence, reimagined
With the power of generative AI and augmented analytics, business leaders can now access real-time insights effortlessly, leading to improved decision-making, enhanced performance, and revenue growth.
Need insights? Just ask.
Gain actionable insights into operations, revenue, forecasts and beyond with conversational AI.
Customers powered by ConverSight
Sonic Tools USA.

"ConverSight was able to supplement practically all of the shortcomings we found with our existing inventory management system, especially in the areas of reporting, forecasts and analytics. Our company became an expert in retrieving data to make information- based decisions."

Galen Hagerty IT Systems Admin
Extract Companies

"ConverSight provides our sales team with data driven insight to pre-emptively target customer demands based on what Athena recommends."

Chris A. President
Dr. Agarwal's Eye Hospital

"ConverSight's analytical capabilities and data management plays a critical role in developing agility within our supply chain ecosystem."

Kiran Narayan VP Supply Chain Operations

We humanize interactions between systems and its users
We deliver smart solutions that think and talk