Benefits of ConverSight for Supply Chain Leaders:
Real-Time Custom Reporting
Quickly create and access custom reports with the exact data points you need
Achieve Full Visibility
Centralize data, automate tasks and gain visibility into all corners of your supply chain
Boost Revenue and Reduce Costs
Identify inefficiencies and receive AI-powered recommendations on where to reduce costs
Proactive Alerts & Predictive Insights
Mitigate risk with proactive alerts that catch errors, patterns, and anomalies
Direct connection to ERP, CRM and supply chain management systems
Supply Chain Assessment: Sail to Data-Driven Success with AI & Analytics
Build an AI-Driven, Indestructible Supply Chain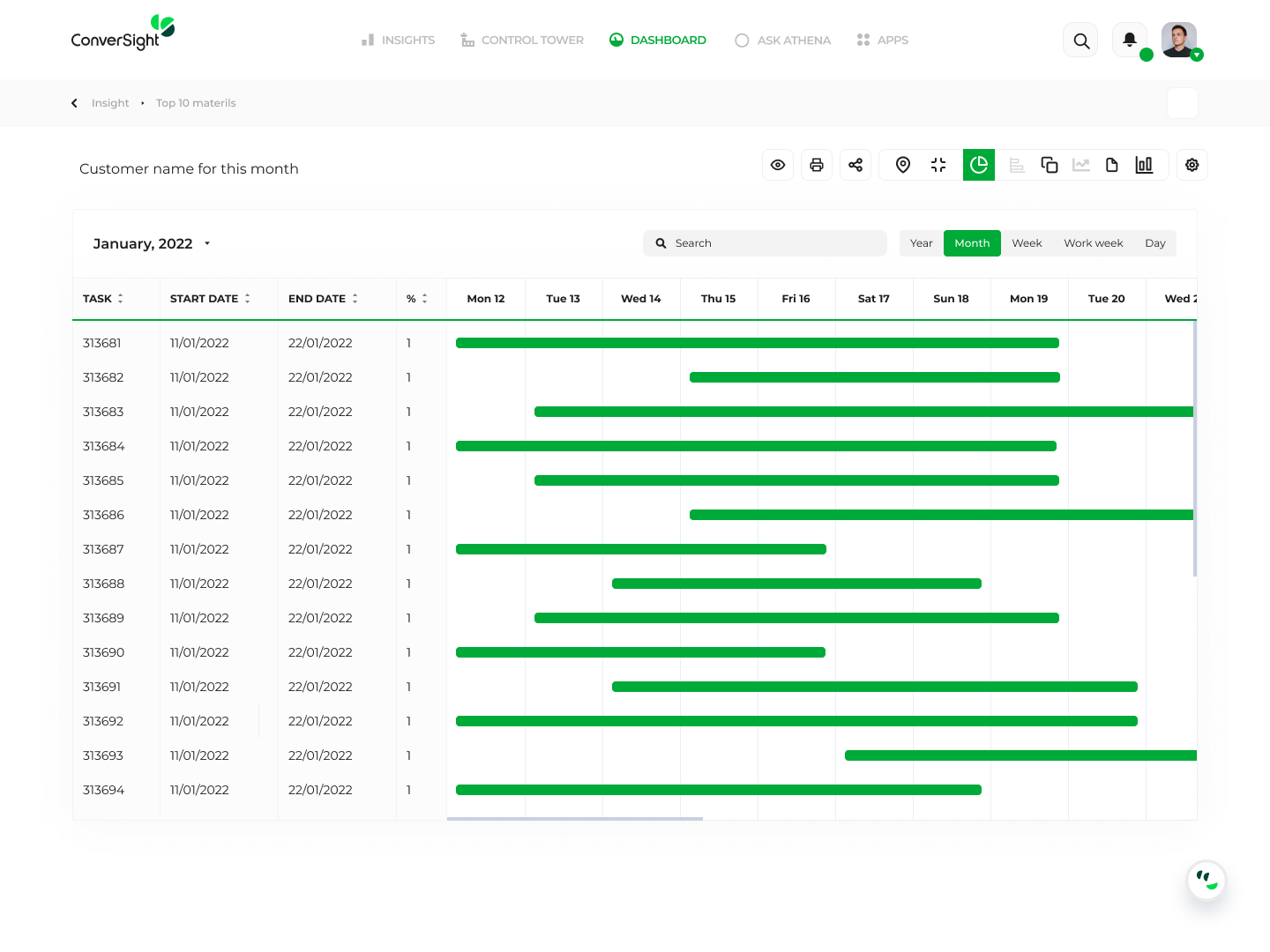 Transform Inventory Management with AI-Powered Insights
Optimize inventory with real-time demand forecasting, safety stock calculation, and recommended POs—all powered by AI.
Make informed decisions about what to order, when to order it, and how much to ensure you minimize waste and reduce stockouts or overstocking.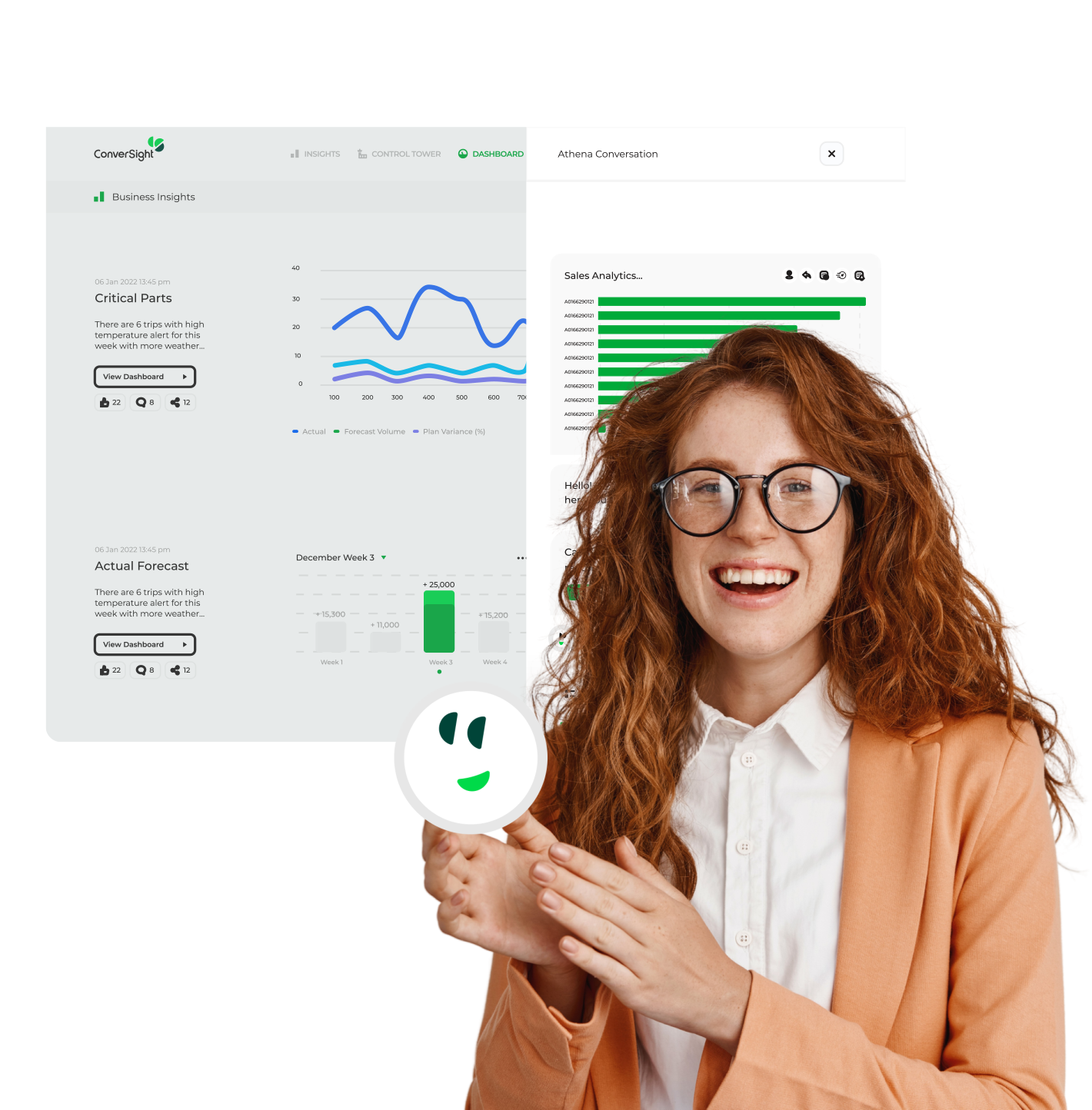 Gain End-to-End Supply Chain Visibility
With the ability to analyze vast amounts of data in seconds, you gain access into all corners of your supply chain to detect potential problems, optimize inventory, and maintain seamless operations.
Anticipate Disruptions with Proactive Insights
Proactive insights and instant alerts flag low inventory, bottlenecks and anomalies as they occur, so you can mitigate risk and stay ahead of disruptions before they result in costly errors.
Advanced, Custom Reporting Has Never Been Easier
Traditional reporting methods can be time-consuming, inaccurate and limited. With ConverSight, you can quickly generate and access custom reports that are tailored to your specific needs, providing you with the information you need, exactly when you need it.
A Complete, Modern-Day Supply Chain Solution
With real-time insights, predictive analytics, and advanced reporting capabilities, you can make informed decisions that drive operational efficiency, reduce costs and give you that competitive edge
Future-proof your supply chain with AI
Unlock your supply chain's full potential with real-time insights, advanced reporting, automation and AI-powered recommendations.
Customers powered by ConverSight
Extract Companies

"ConverSight provides our sales team with data driven insight to pre-emptively target customer demands based on what Athena recommends."

Chris A. President
Sonic Tools USA.

"ConverSight was able to supplement practically all of the shortcomings we found with our existing inventory management system, especially in the areas of reporting, forecasts and analytics." at our company became an expert in retrieving data to make information- based decisions."

Galen Hagerty IT Systems Admin
Dr. Agarwal's Eye Hospital

"ConverSight's analytical capabilities and data management plays a critical role in developing agility within our supply chain ecosystem."

Kiran Narayan VP Supply Chain Operations

echo '';